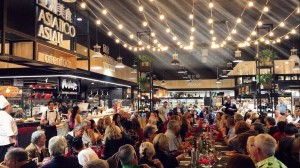 Pasadena Foodland prides itself on its world class standards and strives to set retail industry benchmarks by exceeding customer expectations in a range of areas. One of the most fundamental CRG objectives is to continuously move forward through change and innovation, and this store is no exception.
The highly-regarded store has currently undergone a series of significant refurbishments to deliver the NEXT WORLD'S BEST SUPERMARKET, which is a distinct shopping experience unlike any other in the country. We wanted to go beyond that of a standard supermarket and become a destination that caters to the varying tastes and needs of the local community.
With over 300 staff, the group are a dynamic and friendly team that is continuously growing. At Pasadena Foodland, we set out to create the World's biggest pantry.
Address: 20 Fiveash Drive, PASADENA SA 5042
Store Number: (08) 8374 5000
Opening Hours:
Mon-Fri: 8:00am-9:00pm
Sat: 9:00am-5:00pm
Sun: 11:00am-5:00pm
View the Adelaide's finest supermarkets website by Clicking Here.